Save the Postal Service Day of Action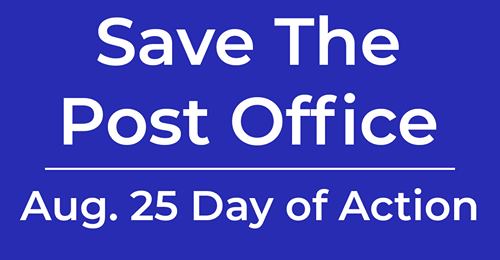 On Tuesday, August 25, thousands of people will take action across America with one clear message – #SaveThePostOffice.
The movement for our public Postal Service has three immediate demands of our elected officials and of Postmaster General DeJoy:
Provide at least $25 billion in immediate support for the Postal Service

Stop the mail slowdown policies introduced by Postmaster General DeJoy

Ensure public confidence in voting-by-mail by providing all necessary resources for the most timely delivery of election mail possible.
Please watch our urgent announcement on the #SaveThePostOffice campaign with APWU President Mark Dimondstein:
Click here to watch the livestream now.
Omaha Area Local 11
Save the Postal Service Rally
Start: August 25, 2020 at 3:30 PM
End: August 25, 2020 at 4:30 PM
Where: Omaha Main Post Office
1124 Pacific Street
Omaha, NE, 68108
Host contact info: omahalocal@yahoo.com
We will be gathering on the south east corner of 10th and Pacific.
All attendees: please maintain safe social distancing or wear a mask.
Please share with other members, family, and friends.
I look forward to seeing you next Tuesday!